Raw materials
Raw materials
When selecting ingredients for our dishes served in our Tavern we always keep in mind to choose fresh, good quality raw materials, preferably produced using traditional production technology. Especially pleasurable is when we can obtain the fruits, vegetable and meat from nearby producers. Over the years we have been able to provide more and more raw materials from our own farm, among others the saline carp from Akasztó and the white racka sheep from Hortobágy.
When compiling the wine list we also followed the similar approach. Thanks to this our wine list alongside famous wineries contains also several local wineries, whose wines are boldly recommended for all occasions.
Akasztói Szikiponty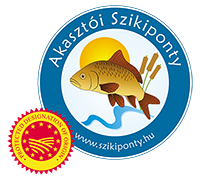 We produce high quality Sziki-carp from Akasztó in our nearly 300 hectare fish farm operated since 1989 in the channelled, saline areas near Akasztó. The unique soil characteristics of the area, the high-quality nutritious water located in the immediate vicinity of the fish ponds, the climate, including the high number of hours of sunshine and the Production Technology of Akasztó make it possible to produce this special flavour quality fish, which has become an individual characteristic of this area. As part of the production technology we place great emphasis on high efficiency of natural nutrients during feeding, resulting in smaller quantities, but better quality fish. Thanks to this, our Tavern offers the unforgettable favourite – the fish soup made from saline carp from Akasztó, but to gourmets we also recommend our smoked carp. The unique quality of this fish has been recognized by the Hungarian Gastronomy Association, and as a result the Carp from Akasztó in 2016 has been rewarded with the Gold Ribbon of Quality Certification. Akasztói Szikiponty has been a European Union Protected Designation of Origin (PDO) product since 2020.
Further informations:
www.szikiponty.hu
Racka sheep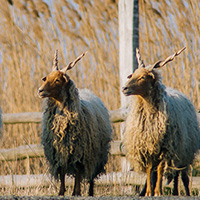 The white racka sheep from Hortobágy has appeared in our farm at first only as a hobby and is kept in free-range, but over the years the number of animals has increased and it also turned out to be delicious meat with special consistency. These two factors together result in very delicious stew that we can recommend to everyone. Many people do not like the sheep stew, because of its taste, smell, caused by the unpleasant taste of tallow in the meal. Fortunately, our stew made of racka sheep does not have this taint, it has only a soft sheep character. However, as it is difficult to judge our own meals in unbiased way, I would recommend the 2012 Gault&Millau restaurant guide, in which our racka sheep stew has been rated as excellent.
Further informations:
www.rackabirka.hu